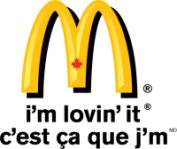 TORONTO, ONTARIO -- (Marketwire) -- 05/01/12 -- On May 2, 2012, McDonald's restaurants across the country will celebrate McHappy Day, an annual fundraising event where $1 from every Big Mac® sandwich, Happy Meal® and hot McCafe® beverage(i) sold will go to local children's charities such as Ronald McDonald Houses.
"No event better illustrates our commitment to giving back to the communities we serve and to helping Canadian children than McHappy Day," said John Betts, President and CEO of McDonald's Canada. "On this day, we call on the millions of customers we serve each day to help us help kids."
As part of McHappy Day celebrations, McDonald's Canada's owner/operators and employees will be joined by a variety of special guests, sports and media personalities, politicians and professional entertainers as they greet customers and help raise money in cities and towns across the country.
This year marks the 19th McHappy Day. An event first celebrated in Canada and conceived of by George Cohon, founder of McDonald's Canada and a past President and CEO, McHappy Day is now celebrated worldwide, uniting McDonald's restaurants around the globe to support children in need.
"It's truly remarkable the difference a dream can make when it has the support of a country and its communities," said Cohon. "In 1977, McHappy Day paved the way for the first Ronald McDonald House outside of the United States, and today, we support 13 - soon to be - 14 Houses and five Family Rooms that serve 10,000 families coast-to-coast."
McDonald's Canada's community involvement efforts are yearlong. Since 2004, the company has raised more than $36 million for Ronald McDonald House Charities® (RMHC®) Canada by donating 10 cents from the sale of every Happy Meal.
RMHC Canada is the national organization that supports Ronald McDonald Houses and Ronald McDonald Family Rooms across the country, which provides families of sick children a home-away-from-home or a place of peace and calm within a hospital. McDonald's Canada covers all of RMHC Canada's administrative and operating costs, making it possible for 100 per cent of every directly donated dollar to go to Ronald McDonald Houses and their programs. For more information on RMHC Canada, visit: www.rmhc.ca.
"Thanks to the generous support of McDonald's and its customers, events like McHappy Day allow the Ronald McDonald Houses to give the gift of the sanctuary of home to out of town families of critically ill children," said Cathy Loblaw, Executive Director, Ronald McDonald House Charities Canada. "During the most difficult time in a family's life, the Houses and Family Rooms help make daily life easier so that families can focus on their sick child while they receive hospital treatment."
Each Ronald McDonald House provides a home-away-from-home for out-of-town families with seriously ill children who are being treated at nearby children's hospitals. Some of the Ronald McDonald Houses also operate a Ronald McDonald Family Room within the walls of partnering hospitals. These spaces offer families a place of calm while remaining just steps away from their seriously ill children.
In addition to supporting McHappy Day in-restaurant, Canadians can also show their support by texting MCHAPPY to 30333 to make a $5 donation(ii) to RMHC. To receive #McHappyDay updates from across the country, follow McDonald's Canada on Twitter (www.twitter.com/McD_Canada).
About McDonald's Canada
McDonald's is the leading foodservice company in the world. McDonald's Restaurants of Canada Limited and its Canadian franchisees own and operate more than 1,400 restaurants and employ more than 80,000 Canadians coast to coast. More than 80 per cent of McDonald's Canadian restaurants are locally owned and operated by independent, local businessmen and women. For more information about McDonald's Canada, visit the company's website at www.mcdonalds.ca.
(i)Hot McCafe beverages include brewed coffee and tea.
(ii)A one-time donation of $5 will be added to your mobile phone bill. All charges are billed by and payable to your mobile service provider. One hundred per cent of the collected donations will go to RMHC Canada.